Industrial Hygiene Surveys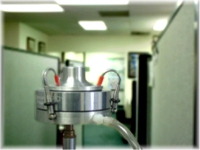 Pacific EH&S offers a wide variety of industrial hygiene services designed to identify, evaluate, and control unhealthful exposures to chemical and physical stressors in industrial, office, and outdoor environments.

Pacific EH&S Industrial Hygienists conduct air monitoring surveys to assess occupational exposures to varying chemical contaminants. Airborne contaminants of concern have included benzene, methylene chloride, ethylene oxide, and other hydrocarbon compounds; lead, beryllium, and other metals; pesticides; inorganic and organic acids; dusts; asbestos; and bioaerosols such as bacteria, yeasts, and molds. All air samples are collected and handled in accordance with Occupational Safety and Health Administration, National Institute for Occupational Safety and Health (NIOSH), or other recognized and validated methods, and all sample analyses are performed at appropriately qualified laboratories (i.e. laboratories that are accredited by the American Industrial Hygiene Association through successful participation in the NIOSH Proficiency Analytical Testing Program). When deemed appropriate, direct-reading instrumentation is used to provide supplementary exposure potential data (i.e. peak level data). All air sampling and monitoring instruments utilized are calibrated in accordance with applicable analytical methods and the manufacturers' specifications, and all associated records are maintained at Pacific EH&S office.

Our professional staff members also perform surveys to assess personal exposures to physical agents such as noise, ionizing and non-ionizing radiation, extreme air temperatures, relative humidity, and illumination.

Upon completing industrial hygiene surveys and compiling the resultant data, comprehensive reports are prepared to summarize the survey findings. Such reports typically include background information; observations of monitored operations and work practices, environmental conditions, engineering controls, and personal protective equipment use; a synopsis of the sampling and analytical strategies utilized; a summary of the resultant data in light of applicable exposure guidelines (i.e. OSHA permissible exposure limits, the American Conference of Governmental Industrial Hygienists threshold limit values, NIOSH recommended exposure limits, and/or foreign standards); conclusions; and, when deemed appropriate, recommendations concerning issues such as regulatory compliance, engineering controls, work practice modifications, employee training, medical surveillance, and the use of personal protective equipment.